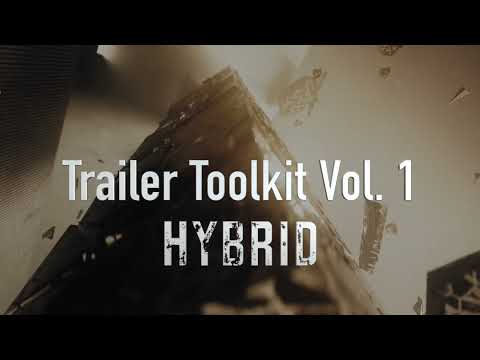 Trailer Toolkit Vol. 1: Hybrid
---
Trailer Toolkit Vol. 1 : Hybrid is a massive collection of production-ready WAV samples, ready to drop into your mix. That's right - a sound pack, not an instrument.
You can checkout a subset of the sounds absolutely free HERE!
However, we haven't forgotten why we started this business, so just like our instruments, we have kept these samples easy to use and mix by providing you with DRY versions of every sound to give you ultimate flexibility. In addition to the DRY samples, most sounds also include at least one alternative version.
This sound pack is perfect for classic or hybrid trailers and tv productions, giving you an unprecedented sound palette, ready to go. It includes the following categories and sounds:
BOOMS: 24 unique booms + dry + alternates (74 total samples)
HITS: 31 unique hits + dry + alternates (87 total samples)
DOWNERS: 26 unique downers + dry + alternates (70 total samples)
RISERS: 25 unique risers + dry + alternates (68 total samples)
SIGNATURES: 41 unique signatures + dry + alternates (137 total samples)
WHOOSH HITS: 29 unique whoosh hits + dry + alternates (82 total samples)
WHOOSHES: 32 unique whooshes + dry + alternates (100 total samples)
That's 208 unique, hand-crafted sounds and 618 total samples!
Mixed & Mastered by the one and only Toby Mason, you can rest assured these sounds will pump up your mixes and inspire you.
Requires 2.2 GB Disk Space

All samples are WAV files in 24bit/48k quality.
Our sound packs download via the Pulse Downloader. Get it here: PulseDownloader.com
DEMOS
Trailer Toolkit Vol. 1: Hybrid
Super!
Hi! Those who are thinking whether to buy this toolkit or not, do not hesitate to buy. Here is all the necessary pack for a Hybrid Trailer track. Special thanks to you, Randon, for an amazing course on creating Hybrid Trailer Music, which also uses this Toolkit 🙏
No Brainier Purchase!
Definitely a no brainier. Incredibly useful sounds at a steal of a price!
Great Sounds For Trailer Composers
Since picking up Trailer Toolkit Vol. 1, I've used at least 1 sound on every trailer track I've created.
These sounds are perfect as is, layered with each other, or layered with other libraries.
With so much content, it would be hard to not find a sound that works for the project you're working on.
I highly recommend purchasing Trailer Toolkit Vol. 1!
An awesome kit for trailer composers.
Oftentimes I use to create FX's for my tracks by myself. I'm doing that for quite a while and have some expirience. But the Fallout are always my goto and I barely do Tracks without the help of the great Fallout products.